Time for Leftovers?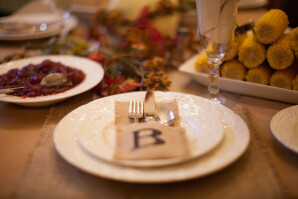 Thanksgiving is now over for another year. Attention turns to leftovers.
You worked to get the house clean. The food was great! Your guests got your best, didn't they?

Now that they're gone, does the family get the leftovers? Not the food, but your attention or your time?
So often we get up in the morning to get ready for work. We shower, put on our best face and give our best to the people we work with. We come home at the end of the day spent because we gave our all.

I remember when I first met my wife. Every waking moment was spent thinking about how many hours, minutes, even seconds till I would see her. I would sacrifice time with friends, hobbies even food to be with her.

Our family deserves our best but often get the leftovers.

Sometimes we treat God that way. I come home from work tired. I think to myself, I will read my Bible later. Tomorrow comes and I have another excuse. Before long it's been a week and my Bible is covered in dust.

God too is due more than leftovers

Romans 12:1-2 (NASB)
1 Therefore I urge you, brethren, by the mercies of God, to present your bodies a living and holy sacrifice, acceptable to God, which is your spiritual service of worship.
2 And do not be conformed to this world, but be transformed by the renewing of your mind, so that you may prove what the will of God is, that which is good and acceptable and perfect.

If we will give our guests our best doesn't our family and God deserve the same or more?

Ted