Are We to Judge?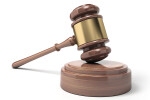 Ever heard the command "Don't judge"?
While this is a quote from Jesus, it is often taken out of context by our society. The misinterpretation has become so prevalent in America our thoughts are likely affected by it every day.
Our society's idea of not judging people prevents the gospel from being shared. The aversion to judging and evaluating people's life stops disciples from being made.
Jesus is saying not to condemn people nor to refrain from loving people because of what they do. He doesn't mean to avoid determining whether their actions are hurtful, mean or even evil. Through discernment we can evaluate areas to speak gospel truths, this action is unfortunately and wrongly equated to judging others at times.
When we get immersed in the Bible, it is obvious we need to judge people and their actions in order to rightly know how to point them to Christ.
The gospel of Christ (His good news toward all who have sinned against God) depends on some type of judgment or evaluation. People need to know they are sinful before they can repent. Judging someone's spiritual fruit or life is not meant to put them down, but rather to bring them to God.
Isaiah 55:7 says "Let the wicked forsake his way, and the unrighteous man his thoughts; let him return to the Lord, that He may have compassion on him…for he will abundantly pardon."
To return to the Lord, you must have been running away from Him. It takes right judgment or evaluation to determine that.
The core message of Jesus, which started as soon as He started preaching, included judgment and evaluation. Jesus said, "you must repent and believe."
Don't let the prevailing thoughts from the world stop you from judging and evaluating how people are doing in their walk with Christ. Everyone needs a healthy dose of judgment and evaluation at times—healthy being the key word. Children need disciplined for behavior we judge to be wrong. Friends need accountability for their sin. People need to hear the gospel of Jesus so they can repent and believe in Jesus to be saved from the final judgment.
It is not our job to condemn people in final judgment. It is our calling to lovingly offer them a way out of judgment and into God's grace!
James 5:20 says "whoever brings a sinner back from his wandering will save his soul from death and will cover a multitude of sins."
We read Sunday in 1 Samuel that David's heart for God kept him from being afraid to judge, evaluate, and even confront the sin of Goliath and the people of Israel. Do we have God's heart to judge rightly so we can point people to Christ?