How to Know You are Relying on God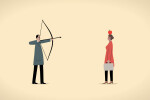 What is the difference between trusting in God and confidence in ourselves?
Isaiah 50:10-11 contrasts those who rely on God and those who rely on themselves: "Let him who walks in darkness and has no light trust in the name of the Lord and rely on his God. Behold, all you who kindle a fire, who equip yourselves with burning torches! Walk by the light of your fire, and by the torches that you have kindled! This you have from my hand: you shall lie in torment."
God tells us to love others. How do we know if we are trying to love them with our own power or if we are loving them with God's power?
It works the same with anything we do. It is hard to know who we are relying on in the moment. But there are specific ways that we can know we are trusting in God and not ourselves:
1. Admit that we can't do it on our own. Notice in the Isaiah quote that the people who rely on God are ones who walk in darkness and have no light. We have nothing on our own. Every good thing we do is a gift from God. Left completely to ourselves, there would be no end to our failure and evil.
2. Pray. If we are not asking God to work through us, the default is that we are doing the work. We also trust that he will answer our prayer.
3. Obey. We do the things that God tells us to do. If we don't, although he will use all things including sin for the good of those who love him, we are not relying on God.
4. Thank God. If he is the one working through us, we have to be sure to thank him for it. Otherwise, we are taking the credit and relying on ourselves.
So when we get ready for another day of fulfilling God's calling on your life to go and make disciples, we should make sure that today, we are relying on God and not ourselves.