The Indispensability of Prayer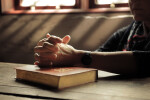 "When Jacob went into Egypt, and the Egyptians oppressed them, then our fathers cried out to the LORD and the LORD sent Moses and Aaron..." (1 Samuel 12:8)
In 1 Samuel chapter 12, a transition is taking place. Samuel is stepping down as a judge for Israel and Saul is being anointed as King of Israel. From God's perspective, the nation has acted wickedly in demanding a human king rather than trusting in God as their king. But this is what the people wanted and demanded. Now, Samuel is instructing the people that things will go well for them as long as they and the king fear and obey God. But if they or the king refuse to obey God and rebel against Him, then God's hand will be against them all.
During his address to the people, Samuel shares a little history lesson that is brief in scope but eternal in truth. First, look at the progression of this history:
Verse 8 – When the Israelites were in Egypt and the Egyptians oppressed them, the people cried out and prayed to God for deliverance. God responded by providing Moses and Aaron and delivering the nation out of Egypt with a "strong hand and an outstretched arm."
Verse 10 – When the nation was oppressed by the Philistines and King Moab, they cried out in prayer to God for deliverance. God responded by providing Judges to deliver the people.
But in verse 12 – When Nahash, King of the Ammonites attacked them, they demanded a king rather than to call on God to deliver them.
Let's take a closer look and notice the pattern in verses 8 and 10:
Verse 8 – there is a need — the people pray — God acts on their behalf
Verse 10 – there is a need — the people — God acts on their behalf
However, the pattern is broken in verse 12:
Verse 12 – there is a need — the people put their hope in man
Samuel reminds the people that God has proven Himself faithful to previous generations to respond to prayer with sufficiency and blessings. Yet, despite this evidence, the people didn't pray and therefore revealed a dependency on the power of man rather than the power of a loving heavenly Father. As a result, they did not get to experience God's provisions.
We are much like the Israelites in struggling with prayerlessness. We can hear of God's faithfulness in the lives of others who pray and not be moved to pray ourselves. More significantly, we may have experienced God's answers to our own prayers in the past and still not embrace prayer with consistency and fervor.
Do you assume God will be active in your life regardless of whether you pray or not? Samuel shows us this truth: to abandon prayer is to forfeit God's activity both in your life and the lives of those around you. James says it this way: "You do not have, because you do not ask." (James 4:2)
John Wesley was right when he said, "God does nothing but in answer to prayer." This is the truth that makes prayer indispensable. If you want to take a shower, you have to turn on the water valve. If you want God's activity in your life, you have to pray. He wants us to ask in order to receive.