The Opposite of Repentance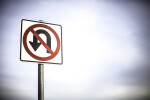 From the very beginning of Jesus's ministry, his message included repentance. Matthew 4:17 says, "From that time Jesus began to preach, saying, 'Repent, for the kingdom of heaven is at hand.'"
Repentance is not just for our conversion, but for every day. We sin every day, but sometimes we don't realize it. The way we get closer to God is by repentance, or turning away from our sin and self-reliance and turning back to God in faith.
How do we know we need to repent? Sometimes, sin is obvious, but sometimes we need someone else in our community to point it out. Other times, there are signs in our lives that tell us something is wrong.
Here are three feelings that often show that we are unrepentant:
1. Guilt
Guilt is a feeling that comes from dwelling on past sins. When we feel guilty it shows that we are not fully trusting in the forgiveness that Jesus has bought for us on the cross. We need to repent of our unbelief and put our trust back in God.
But what if I feel guilty every day? Even better! What's wrong with turning to God and trusting in Jesus to give you a pure and holy identity every day?
2. Shame
Shame is a continual putting ourselves down. After sinning, shame is a natural self-punishment that makes us feel like we are doing something about our sin. We are trying to fix it on our own.
But fixing our sin by our own effort is the opposite of repentance! We cannot fix our sin, and trying to do so shows that we are not believing in Jesus who already took all the punishment for our sin.
So how long should I feel ashamed after I sin before I completely trust in the grace of Christ? He doesn't want our shame at all. He died so we don't have to be ashamed.
3. Fear
Fear is from looking toward the future and imagining something bad that could happen. When we are afraid, we are unsure about what is coming.
In Christ, we know exactly what is coming. First, we know everything eventually works out according to God's perfect plan, no matter the pain we may have today. Second, we know that nothing can change the love that our Father has for us in Christ. And third, we know we will be resurrected just as Jesus was and live forever in joy.
When we are afraid, we need to repent of our unbelief in the future Jesus bought for us. We need to turn back to the Father who is always in control and whose perfect love never changes.
As we are making disciples and spending time with others, these feelings will come up often. We need to repent because we need Jesus.
"Therefore, since we have been justified by faith, we have peace with God through our Lord Jesus Christ." Romans 5:1.