I'm not really sure what you think about Halloween. To be honest, I grew up in a home that had nothing to do with it. So, what do we do with our kids today? We still don't make a huge deal about Halloween at our house. Have our kids been ok with that? Not really.
One of my children stood up in class once and announced to his peers that "God hates Halloween." I am not sure where he got that from. I have a daughter that has cried her eyes out because she wants to dress up. OHHHH, and they all want the candy… every last one of them.
OK, so some of you might be thinking… hey this guy is some sort of buzzkill. Now wait just one second, have you seen some of my amazing costumes and characters? I love to "be in character" and goof off. My kids know that.
There's one small detail that I am with-holding from you. We do find ways to interact with and love our neighbors and community on Halloween.
Erie can feel kind of cold most days. Do neighbors even get together anymore? Before I chase that rabbit trail… could Halloween be redeemable? Maybe that doesn't make sense. Let me ask you a few other questions. Could Halloween become an opportunity for us to interact with other families? Could we build relationships and love others on this day?
I know we can. We have made a decision at our house to give candy to those that come into our neighborhood. It's our desire to be a family that loves our neighbors well. Our children have found great excitement and joy even in loving students at Grover Cleveland at their Fall Festival. We may not join in like most, but we see how Halloween can have a purpose.
What will your family do to connect and love others this Halloween? Here's a good resource to think through Halloween with your kids from Crossway. CLICK HERE.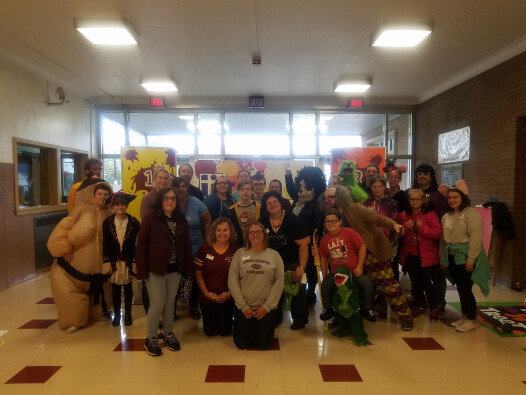 Check out this photo of teenagers and their families serving Grover Cleveland school, faculty, and families at their Trunk or Treat this past week!