Hello church family!
First, I want you to know that I'm praying for you, your families and your C/D-groups. This season of suggested isolation and social distancing is difficult. There are a lot of questions, and not as many answers. Just remember and treasure that God is still sovereign, good and gracious. His promise is to make "all things" work together for good for those that love Him! (Romans 8:29)
Second, I wanted to give you three charges as we move forward without C-Groups meeting at church buildings, no Sunday services at church, and limited participation because of the goal of social distancing.
1. Fight isolation with wisdom.
God has not designed us for isolation. When God created man He said, "It is not good for man to be alone." (Genesis 2:18) In the very fabric of our creation is the desire to be with others. God gives Adam Eve. He exists in community in the Trinity. We are created in His image (Genesis 1:27). He has given us, as followers of Christ and members of His kingdom, the church. We have recommendations from others that we should remain socially distant for a period of time to help protect others and care for our health care workers. Jason Allen (President of Midwestern Baptist Theological Seminary) wrote, "I'm taking Covid-19 seriously, and CDC instructions seriously, not because I'm afraid of getting it. I'm young, healthy, & in Christ. I'm taking Covid-19 seriously because I'm afraid of distributing it. Love the elderly, the sick, the vulnerable (your neighbor) through this." This is my prayer through this. That we love and care for those around us with wisdom. We are eternal beings who will spend eternity together. Surely we can spend a few weeks using new means of gathering knowing we will have eternity together!
2. Don't lose heart.
John 16:32-33: "Behold, the hour is coming, indeed it has come, when you will be scattered, each to his own home, and will leave me alone. Yet I am not alone, for the Father is with me. I have said these things to you, that in me you may have peace. In the world you will have tribulation. But take heart; I have overcome the world."
I love this passage of Scripture. Jesus is preparing His disciples for a time when they will not be able to gather. It's a scary time, it's a short time, but their leader has been taken away, beaten, stripped and crucified. His preparatory message for these followers is to have peace only found in Jesus. The world will give us tribulation, that isn't an "if." Tribulation of many kinds will come in this world. The good news is we worship the One who has overcome the world and all it's tribulations.
3. Continue to meet, creatively.
Hebrews 10:24-25: "And let us consider how to stir up one another to love and good works, not neglecting to meet together, as is the habit of some, but encouraging one another, and all the more as you see the Day drawing near."
As of March 16 the White House has encouraged groups of 10 or more to not physically meet together. This puts a damper on just about every Community Group at our churches. However, we can still gather through the gift of technology. It may be less personal, but I think for the first time as American followers of Christ we are going to feel the yearning for community that the world has. We don't have to isolate so that we miss connecting. We can utilize Zoom, Google Hangouts, FaceTime, Skype, etc. Below is my D-Group today. We met, we prayed, we connected, we read the Word, we shared journals, we quoted memorized Scripture. In short, we had Christ-like community!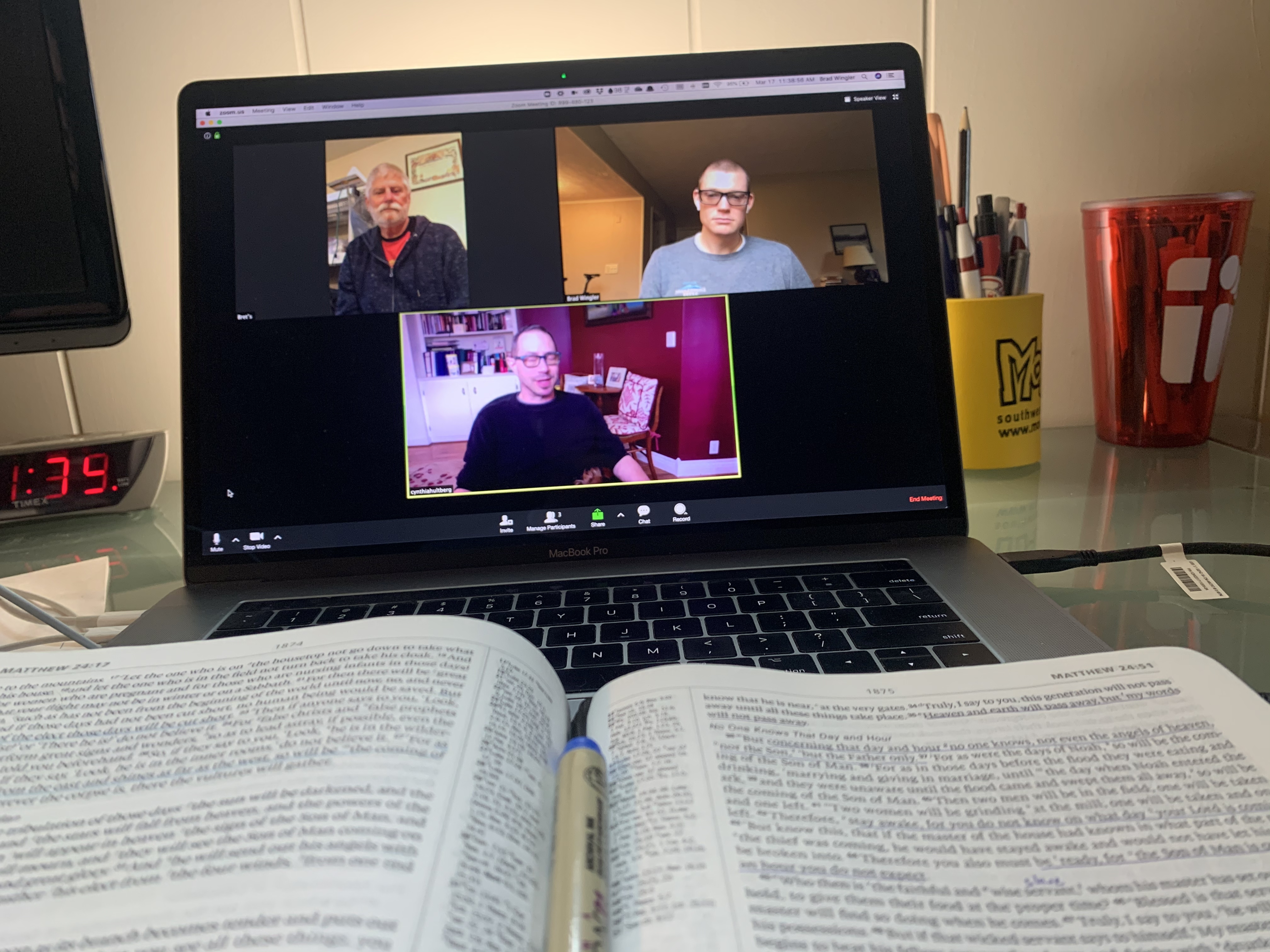 Using these tools allows us to still connect and do so in a way that is safe and recommended in order to "flatten the curve" and slow down the spread of any virus. If you need help with any of these I will help you. I have three Zoom meetings set up for today and tomorrow because I want to connect and grow in Christ with others, take the lead and encourage those in your circles to do the same. Even text message groups, or conference phone calls help in a time like this. "CONSIDER" how to stir one another up to love and good works. As a team and people from several churches let's think through this and not give up.
Finally, please let us know if you are aware of any special needs in your life or the live's of those you are walking with. We want to meet as many needs as we are able.
In Christ,
Brad Wingler
Discipleship Pastor