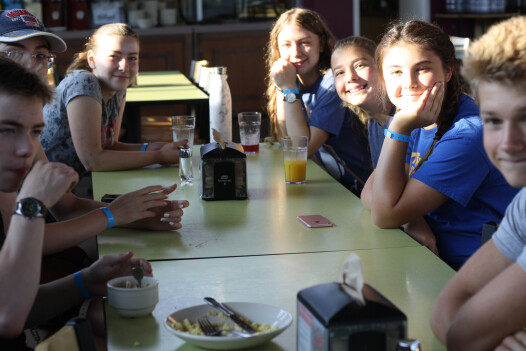 It truly was an amazing trip where friends were family. I pray that God uses these stories to bring you hope today, no matter where you find yourself, know that He is a faithful, sovereign God, working out His great plan! Here's a few other bits and pieces of stories of how God was seen through the trip as told by one of our leaders, Joey Brown,
"Jenn, who is one of the most honest and trustworthy friends I am honored to call my sister in Christ.... stepped forward to alleviate as much of the stressors and anxiety causing situations as possible. For this I am forever humbled by God's love exhibited through this wonderful and selfless friend! …God makes ways for us to see Him move through others sometimes in the smallest things like Jay offering almost every morning to take care of my breakfast dishes. the sweet and thoughtful things and way Jayla always comes along side of you when you're sitting alone,
Christina making you laugh and feel wanted and give hugs just when you need them. Not to mention lending her sweet backpack to me for the week and making my life a whole lot easier. It's Noah coming running in to make me laugh giving me my second wind when I didn't think I could look at, let alone, wash 1 more mega block! It's Natalie handing me buckets on the 3rd floor steps cautiously making sure I know when they are heavy by her cute heads up, "This 1's a big big boy!!" And giving me a hug and telling me she's glad I was there to keep her calm and fix her nail gun aftermath!"
It's the way Lydia and Sydney go out of their way to come to my room the 1st day just to stop by and see me and make me feel welcome. The way they just sit around and chat with me and make me laugh and be silly with me, letting me know I'm a part of their life and that's important. It's Krystne, Abby, and Heidi sitting on our common area asking me to tell them about one of the darkest times in our families lives and listening as I unravel the story… It's them crying with me and understanding the sadness those days brought and also the triumph they brought for the kingdom of heaven.
It's how the girls treat each other as if God had intended them all to be sisters of the heart. They love one another and care for one another and truly desire each other to know Christ in a deep and spiritual way. It's the boys accepting Andy into their fold as if he was always there. It's so many little things and big things that add up to gigantic things for the Kingdom! It's Austin sitting and chatting with me telling me his favorites his not so favorites, what he likes, and who he wants to be when he grows up, and just knowing Austin is comfortable enough to have a chat with me.
It's Chuck's (an elder from Living Waters Church) patience and grace he shows in every situation, even when the acoustic boxes were made wrong! It's everyone sitting in Shawn's room opening up the bible sharing the Word of the Lord with each other in an environment of thanksgiving and love! It's nerfed swords and volleyball and silly things we say and do to make each other laugh and feel better when God lays one of our fellow brothers and sisters on our hearts! Its each and every hard working selfless beautiful soul who took time out of their busy summers off of school to travel 100's of miles away to a tiny town no one probably knows about to be His Hands, His Feet, to people they don't even know and all this… for the further building of the Kingdom of God! I am truly blessed."
The work is so important, the relationships are priceless. What an amazing reminder of God's bigger family that He has so graciously given us. There are so many more stories to tell: going door to door in Phillipi to invite people to Living Waters Church, praying with people, gospel conversations at hardware stores and at the college campus where we stayed, opening the scriptures at a coffee shop, and swimming in the river… God is faithful, and I pray you get the chance to ask someone from the trip to share their stories. (they need to anyways… it was one of our requirements for the trip…)